Company Background
Direct Current, Inc. has been providing expert electrical service throughout the DMV since 1991. Our philosophy is that we are here for the long run and want our clients to know that we would rather make a fair wage on a hundred jobs than a killing on one.
We are an experienced and highly-recommended contractor serving the electrical needs of residential and commercial properties from new wiring to electrical maintenance and troubleshooting. We are specialists in the service and installation of electrical systems, and have a comprehensive knowledge of new technologies as well as systems that have been installed for years.
---
Professional Affiliations
Our electricians are members in good standing, working for a fair wage and not commissions. Any recommendations will be based on experience, training and code, not monetary goals.
---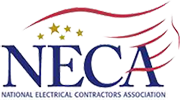 National Electrical Contractors Association (NECA)
NECA is the voice of the $130 billion electrical construction industry that brings power, light, and communication technology to buildings and communities across the U.S.
---
International Brotherhood of Electrical Workers (IBEW)
The IBEW represents approximately 750,000 active members and retirees who work in a wide variety of fields, including utilities, construction, telecommunications, broadcasting, manufacturing, railroads and government. The IBEW has members in both the United States and Canada and stands out among the American unions in the AFL-CIO because it is among the largest and has members in so many skilled occupations.
If you are looking for a reliable and qualified electrical company in Northern Virginia, look no further than the team of electricians at Direct Current. Give us a call for all of your electrical service needs.