Commercial Electrical Service
Direct Current has provided electrical service & repair to commercial properties in Arlington, Alexandria, and throughout the Northern Virginia and D.C. Metro area since 1991. We work on and in office buildings, retail, apartments, hotels, condos, critical care facilities, restaurants, warehouses, schools and government facilities. We can design and install any type of electrical system required in your commercial building, and are happy to service and repair your current electrical system. We install high-efficiency systems designed to be the most cost effective for your property. We are committed to building the most reliable electrical system for your needs.
---
Bucket Truck Services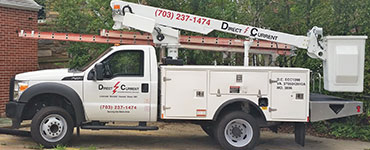 Bucket Truck servicing up to 35' high is available. Parking lot pole light servicing can now be done quicker, which means a savings in cost for you and less time for your clients to be "in the dark". We have stocked service bucket trucks with highly trained electricians to take care of your needs. There are many types of ballasts, bulbs, sockets and sensors that control your outdoor lighting. One light or 100, we service them all with the same professionalism.
Infrared Thermal Imaging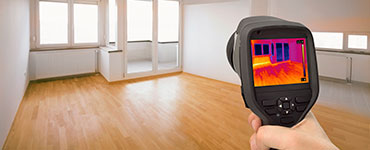 Infrared thermal imaging is ideal for troubleshooting electrical installations, electro-mechanical equipment, HVAC/R equipment and others. We perform preventative maintenance and problem determination on all types of switch gear and electrical panels throughout the year. If you have a problem we can solve it, but if you want us to catch the problem before it becomes one, we can do that as well. We can provide you with infrared and visual pictures of the problem areas if we find any.
Fire Alarm & Smoke Detection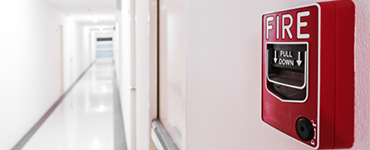 Stay up to date with an inspection of your fire alarm system. Certified electricians in fire alarm testing are available for you to have complete peace of mind knowing the fire alarm is working as designed. We also provide service and repair to existing systems. We can retrofit new replacements or whole new systems.
---
Electrical Services & Capabilities
Preventive maintenance
Repair & replacement work
Lighting installation & repair
Additional circuits
New building repair
Tenant improvements/build outs
Systems Installed & Serviced
Lighting systems
Motor controls
Computer/data processing power systems
Low voltage distribution systems
Power for security, fire, access controls
Telecommunications
HVAC
Voice, data & video cabling
---
Our Electrical Projects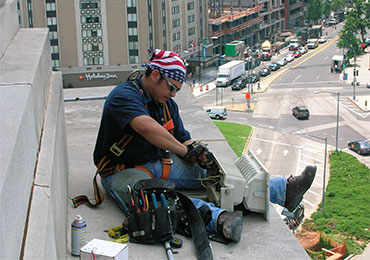 We have helped design and build a variety of different systems, including:
Complete retrofit of the parking lot lights from metal halide to LED at The Lab School in D.C.
Upgrade lighting to LED and ACC standards in The Lab School Gymnasium in D.C.
Complete retrofit of gym lights to LED at The National Presbyterian School.
Upgrade 100 KVA standby Generator with ATS at the Thoreau Place in Reston, VA.
30KW standby and distribution system at the U.S.P.S. stamp distribution center in Dulles, VA.
A 40,000-square foot center and a 10,000 child care center with all tenant build-outs including dentist offices and restaurants at 201 & 205 N. Maple Ave., Purcellville, VA.
100KW standby generator, 80KVA UPS and Data Center distribution system at 7600 Colshire Dr., Mclean, VA.
The swap-out of one and the installation of another 125KVA PDU without power interruption at 4795 Meadow Woods Lane, Chantilly, VA.
Design and install grounding and surge protection system at the National Presbyterian Center, 4101 Nebraska Ave., NW, D.C.
Find Out What Makes Us the Best Electricians in Arlington, VA, and More!